It's the start of a new year, and I thought it would be fun to look back at 2014 and highlight some great Pixar content I found from both well-known and some, maybe not so well-known, websites. I should say right up front the title is a bit misleading. I don't want to imply this list is a "Best Of" list. Rather, these were events, sites and podcasts that caught my attention and I hope ones that, if you're looking for some new Pixar content, might pique your interest. Plus, you'll notice many aren't Pixar-specific but are great sources for animation, technology, pop culture and overall geeky goodness.
Artist: Jeffrey Devey
The
Pixar Times
is one of the oldest Pixar
news site
and has been covering Pixar news for many years. The site also has a section for Pixar-related artwork called
PixArt
, which is full of many beautiful pieces of art and is curated by
Jerrod Maruyama
. It's well worth your time to stroll over there and spend time looking at it. I especially like the November Feature II piece featuring Mr. Incredible and Jack-Jack.
There was no Pixar film in 2014, but there were still a couple of big Pixar events. The first was the release of Ed Catmull's book
Creativity, Inc.
I love this book and recommend it to anyone interested in Pixar, business management or how to work in and sustain a creative culture. Catmull did a number of interviews promoting the book, and you can find many great reviews of the book. The
Pixar Post
launched their
book club
with
Creativity, Inc.
, and
The Incomparable podcast
, hosted by Jason Snell, did an
episode
reviewing the book. I enjoyed listening to Jason and his guests, all who are obviously Pixar fans, discuss the book and highlight a number of the same important points I enjoyed from the book - the egoless environment, the fact that Catmull was so open in discussing their failures and how they're constantly working to create an environment to not avoid failures but make it safe to fail and then figure out how to move forward. If you're into pop culture, I highly recommend checking out
The Incomparable
(I greatly enjoy their
Doctor Who flashcasts
).
The second big Pixar event to me was
Pixar in Concert
. Yes, I realize
Pixar in Concert
didn't start in 2014 but it's when I was finally able to see it! Music is such a critical component of Pixar films and almost all of their scores have left big impressions on me. So to hear this music live was really an emotional and fun event. If you're familiar with
Dan the Pixar Fan
, you know that he has a passion for Pixar merchandise. He has daily posts on his wide-ranging collection of Pixar memorabilia (how he does a post every single day is a mystery to me!). But earlier this year he wrote about his and his wife Brita's experience at
Pixar in Concert
in Salt Lake City. Go check out
his post
on the concert and then check out some of
his merchandise posts
.
Pixar's next film
Inside Out
will not be released until June 19, but it's already been generating huge excitement. In early December, director Pete Docter took over the
PixarInsideOut
Twitter handle to answer fans' questions regarding the upcoming film. I've
posted before
how much I enjoy hearing artists discuss the making of a film or their other projects, and this is the second time Docter has done this, his first being a
Reddit AMA
he did a couple years ago.
Did I just mention that I love listening to artists talk about the making of films? Yes? Well then,
The Pixar Post
gave me close to a year of behind-the-scenes goodies with their
Pixar Pipeline Project
. Throughout the year, T.J. and Julie interviewed 8 different Pixar artists, one in each of the main departments a film goes through during development and production. Listening to the artists, you really get a sense of the passion and excitement they each share for their work, and after each episode I'm always amazed at the detail each department puts forth. These episodes are a great way to learn about making animated films, the artists themselves and what it takes to get into the industry. The last episode should be coming out early this month.
In addition to the Pipeline Project, there were some other excellent interviews with Pixarians throughout the year. The first was
episode 12
of the
Toon Talks Podcast
, where Sandra interviewed Pixar animator Bret Parker. You may recognize Bret as the amazing voice of Kari McKeen from
The Incredibles
. I love Bret's enthusiasm, and she gives some great tips for beginning animators - the value of acting in animation, knowing your character, showing your work often and just as important, showing it to the right people.
Christian Roman
The second interview was the
Something Something Experience Podcast
interviewing
storyboard artist
Christian Roman
.This was an in-depth interview and went into a lot of Christian's pre-Pixar history such as
Mission Hill
and
The Simpsons
. They also briefly discussed
Inside Out
, the importance of improvisation and hand-drawn art. They even took a detour to discuss Burning Man!
I really liked the consistent message from both Bret and Christian on the importance of acting and improvisation, and how they use these techniques to "plus" scenes. Also, a cool coincidence: shortly after Christian's podcast came out, Pixar Story Supervisor
Matthew Luhn
posted a tweet
titled
Storyboarding the Simpsons Way
- notes from Brad Bird that Christian had documented and illustrated from their time working on
The Simpsons
. It's full of great tips and examples for creating compelling storyboards!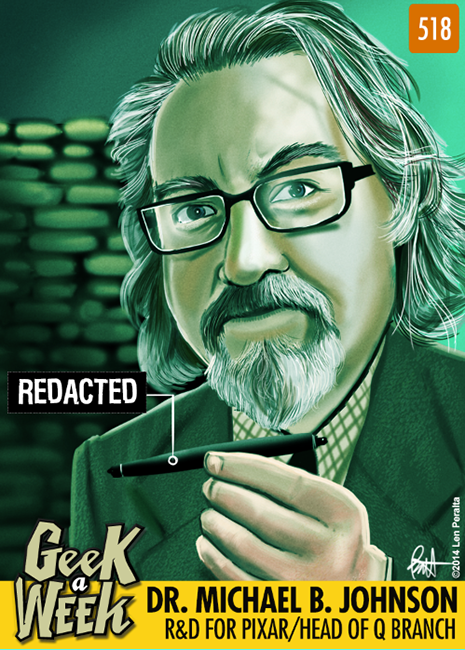 © Len Peralta
Finally, Len Peralta interviewed
Dr. Michael B. Johnson
as part of his
Geek A Week
series. Peralta's project started as an effort to interview
52 geeks in 52 weeks
and draw them as trading cards, and fortunately has continued beyond that first year. The interview goes into Johnson's history at Pixar, a fun discussion on Dungeons & Dragons and the secret thing he geeks out about. I sadly was not aware of this project until Johnson's interview, but have listened to a number of other episodes since and have many others queued up!
So that's my list for 2014! I
wrote a similar post
a couple years ago and it was fun to go back and revisit it as I wrote this one. Anyways, I hope this post gives you some new sources for Pixar and other cool content. What about you? I'd love to get some recommendations for podcasts or sites. If you have any, leave them in the comments below, and have an awesome 2015!!